Why Honor Watch GS Pro is a Must-Have Watch in 2022?
A lot of different smartwatches are available in the market. Brands like Apple, Samsung, Huawei, Honor, and many others are manufacturing smartwatches with different features to cater to the needs of the customers. Honor Watch GS Pro is a smartwatch that is good for many users because of its amazing features, and specifications.
Here I will discuss why you should buy GS Pro when you are in the market for a  smartwatch.
Honor Watch GS Pro Specs
Honor watch GS pro is a good smartwatch with good specifications. It has a long battery life, good memory, lite weight, good display, and a lot more. So, let's talk about its specs and some features.
GS Pro Display: It has an AMOLED round 1.39 inches display. The full screen of the watch is a touchscreen which is a good one. It has a screen resolution of 454 pixels with 326 PPI. It has different animated watch faces outdoor.
GS Pro Dimensions and Weight: The weight of the Hono watch GS Pro is 45.5 grams without the straps. Whereas the dimensions of the watch are 48mm in width and 48mm in height.
GS Pro Battery: This watch comes with Li-Ion, a non-removable battery that provides 25 days battery life in typical usage, while 14 days battery life in heavy usage scenarios.
GS Pro Colors: The Honor Watch GS Pro came in 3 different colors. You can select any color from Charcoal Black, Marl White, Camo Blue.
GS Pro Memory: Honor Watch GS Pro come with 4GB internal storage and you can't use any external memory card as an external storage in this watch.
MIL-STD-810 Tests
These are a series of climate and environmental tests according to the army standards for the durability of different gadgets. Honor Watch GS Pro is compliant with 14 types of different MIL-STD-810 tests.
These tests include the low and high temperature tests, solar radiation tests, contamination by fluids tests and humidity, vibration, shock, and water resistance tests in the rain. With these tests, it is compliant with a few more MIL-STD-810 tests.
Workout Modes in GS Pro
Athletes love to use a smartwatch to track their workout activities and their activity during sports. Different types of sports require different energy and routine.
Honor Watch GS Pro has 100 plus workout modes that help athletes and sportsmen to track their activities and take care of their health. It has 18 professional workout modes whereas, you have an option to set custom workout mode as well according to your type of sport.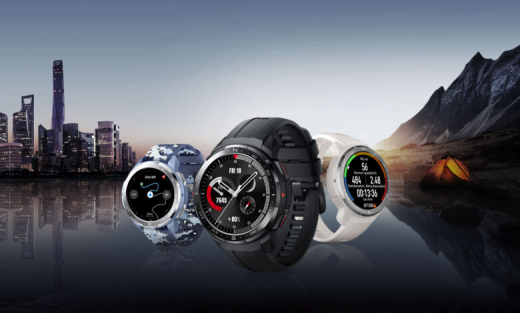 Full View of Your Health
You will get a full view of your health all day long. Not only for the day, but this amazing and budget smartwatch will track your sleep hours as well. It will mention the recommended sleep hours for you and will count the hours you get your sleep.
With that, this watch will also monitor your heart rate 24 hours a day and 7 days a week. You will have a full graph of your heart rate in beats per minute (bpm).
GS Pro also comes with the SpO2 monitor feature that monitors the blood oxygen level. All the information is important to know more about your health.
Personal Skiing Coach
Your GS Pro watch is your personal skiing Coach as well that monitors all your activity during Skiing. It will record your maximum steepness and speed, the number of runs, distance covered, total trail time, heart rate, altitude, calories burned, and much more.
Based on this information you can decide how to improve yourself and how much progress you have made in a week.
Weather Alerts
If you have any outdoor activities, you can plan these activities with the help of your GS Pro. It will inform you about bad weather, sunset time, sunrise time. With that, it will also let you know about the moon's rise and moonset times.
So, overall this weather feature would be a great help when you need to plan your outdoor activities.
Use as a Wrist Phone
This is a very obvious and basic feature of any Smartwatch. You can answer any call on your phone without picking it up. You can use your Honor gs pro to answer the call as it has a built-in speaker and microphone.
Final Words
The Honor Watch GS Pro is a great addition to any smartwatch collection. It has all of the features you would expect from a top-of-the-line watch, and then some. With its stylish design and comfortable band, it's perfect for everyday wear. If you're in the market for a new smartwatch, we highly recommend giving the Honor Watch GS Pro a try.
Latest: When to Replace Your Worn-Out Laptop?
Next: Honor 6
Related Articles